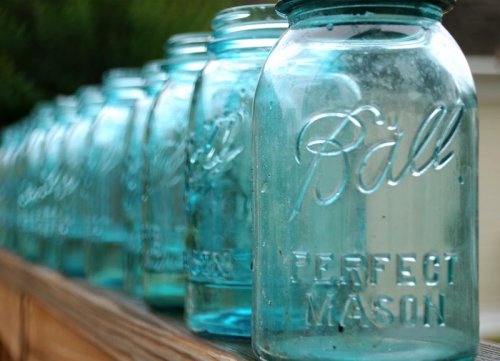 Most people use mason jars for canning their meats and produce, but there are many other uses that are great for the environment as well as the pocketbook. Mason jars can be used for food storage, soap dispensers, herb garden containers and more. You can even make a mason jar into a cocktail shaker.
Soap or Lotion Dispenser
A soap or lotion dispenser made from a mason jar adds a unique decorative touch to your kitchen counter. You can use the pump from any lotion or soap dispenser or purchase a new one at your local craft store. Cut a hole in the lid of your jar so that the dispenser goes through but does not fall in. You can fill it with your favorite lotion or soap, either homemade or bought in bulk from the store. These dispensers also make great gifts for holidays, birthdays or housewarming parties.
Smoothie or Guacamole Server
Some bottom caps on blenders have the same thread count as the neck of a mason jar. This means that you can blend anything that you would normally use your blender for and store the contents in the mason jar. Just make sure that a mason jar will fit on your blender and attach it slowly and carefully so you don't break anything. Using a mason jar for blending eliminates the hassle of having to transfer the contents of your blender to another container and clean the blender before blending a different item.
Garden Containers
Container gardening is a wonderful way to ensure that you have freshest possible herbs in your kitchen. Mason jars can be used for holders the same way that you would use any other container for your garden. It works best to secure the jars to a board using pipe clamps. The board can easily be moved indoors or outdoors as necessary when you are growing your herbs. Make sure you bring them into the kitchen at night when the weather cools down so that they aren't damaged by frost.
Food Storage
Using mason jars for canning is common, but they can also be used for storing many types of food. Mason jars are excellent for storing leftovers in the refrigerator. Their clear glass design makes it easy to see the contents of each container. They can also be used in the pantry to store bulk items such as flour, sugar, rice and pasta. Small jars are excellent for storing spice mixes that you have created in your kitchen. Be sure to label the jars well so that you don't have to guess the contents of each jar.
Salad Dressing or Marinade Containers
Making your own salad dressings or marinades is a great way to control which ingredients your family is putting into their bodies. You can mix your own marinades or salad dressings in your kitchen and store the contents in pint size mason jars in the door of the refrigerator for easy access whenever you need them. The jars can also be used to store sauces or other liquids. Heck, you can even make a whole salad in a mason jar.
Cocktail Shaker
One of the most creative uses for a mason jar in your kitchen is creating your own cocktail shaker. Most inexpensive cocktail shakers tend to leak, but you can make your own from a jar with a lid and it's likely to last for a long time. Simply drill small holes in one side of the lid with a 1/8″ drill bit. Use your cocktail shaker the same way that you would use a commercial shaker for making drinks.