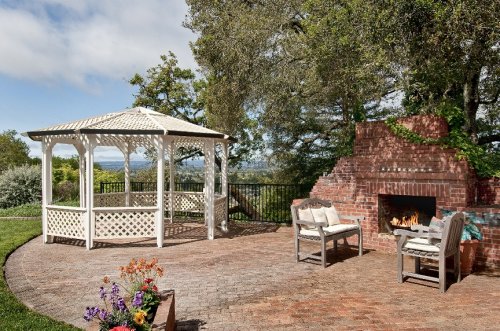 As summer draws near, more homeowners begin to consider ways to improve their outdoor space. After all, entertaining outdoors is a great way to spend a summer evening with friends and family. Here are a few applicable tips for those considering either creating an outdoor space or improving the one you already have:
Add shelter
When temperatures climb and the sun mercilessly beats down on you, it is important that you have a shaded area for you and your guests to enjoy. Therefore, it's a great idea to always consider adding some form of shelter when creating a great outdoor space. This could be anything from a deck umbrella to a gazebo or pergola.
Lighting
When entertaining outdoors, one factor to consider is outdoor lighting. There are many innovations in this area that offers an abundance of lighting choices. Solar lights are perhaps the best for outdoor use because they illuminate as the sun descends and charge throughout the day. You can also install several solar lights throughout the outdoor space creating a beautiful effect when night falls.
Update furniture
Having comfortable outdoor furniture is an essential element of a welcoming outdoor space. However, make sure all fabric cushions and pillows will withstand the outdoor elements. A great way to update existing outdoor furniture is by acquiring new cushions and pillows. Right now, vivid colors and patterns are very much in vogue. Consider animal prints or polka dots for pillows and bright solid colors for cushions.
Grill
Choosing a great grill is another important aspect to an outdoor space. If you plan to host events and provide a meal when entertaining, incorporating a cooking space and a grill into your outdoor space is imperative. Consider installing a bar or food preparation area near the grill in for serving snacks and buffets. Adding a small refrigerator to keep fruit, condiments or drinks cool is another way to spruce up an outdoor cooking space.
Add a relaxing fountain
Running water is one of the most soothing sounds to relax to. Incorporating a fountain into your outdoor space is a great way to create a tranquil ambiance. Some homeowners choose fountains that simply run over beautiful rocks while others prefer fountains that incorporate statues into their design. Another interesting way to incorporate a fountain is attaching it to a coy pond. These small ponds need constant circulation to prevent water stagnation making them an ideal place to install a picturesque fountain.
Creating a lively space outdoors provides you with yet another option when it comes to entertaining family and friends. This is especially true for homeowners with little room to spare indoors. In many cases, when homeowners have limited space, they simply choose to forgo entertaining altogether and creating an outdoor space can be the perfect solution.