Top College Football Uniforms
(in no particular order…)
USC – Something about these uniforms make them look awesome to me. Maybe it is the history. Maybe it is the tradition. Maybe that you see them all the time in the national spotlight. OR, maybe it is because their cheerleaders look insane in those white sweaters on the sidelines cheering for them. I don't know.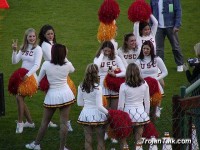 Alabama – This has Bear Bryant written all over it. Even when you watch the Crimson Tide in today's games, if you don't think of Bear Bryant when you see the uni's, you don't know what you are talking about. These are classic and don't have glitz and glamour, but the numbers on the helmets top it all off.
Clemson – I love seeing those all Orange uniforms at a night game in Death Valley in S.C. For whatever reason, I think those are sharp with the tint of purple that goes along with it. Also the Tiger paw on the helmet makes the whole uniform come together in my opinion.
Florida State – The best thing I love about these uniforms is the fact that you see all of the Seminole logos on the helmet that shows who are the top stars on the team and who aren't. I love seeing Florida State play at home in the uniforms and when the crowd gets into it, it makes it all the better.
Oregon – I know you will probably kill me for this one, but how can you mention uniforms without talking about Oregon? Seriously Nike are you kidding me? Even though I don't like a majority of them, the ones they wore in the Rose Bowl in 2012 were pretty damn cool. I think Kirk Herbstreit said they had a Darth Vader look to them. The helmets made the whole uniform that day.