Top Karaoke Songs (I've either sang myself or heard other sing!)
(in no particular order…)
Sweet Caroline (Neil Diamond) – Honestly, when doing a karaoke song, you need crowd interaction. And what is better than "da da da" and "so good, so good, so good"! This is an easy one – hell I've done it a number of times knowing damn well that I was going to have the crowd sing half the song with me. Truly a no-brainer when it comes to karaoke.
Don't Stop Believing (Journey) – This isn't always done by karaoke singers, but when it is done right, it is great. Fan interaction throughout and great lyrics to recite. Not hard to follow and keep up with, and it gets all age groups involved for whatever reason. Young and old know this song so you are golden when you are on stage.
Livin On A Prayer (Bon Jovi) – If you are a guy singing this, you will definitely have women singing along with you and loving you! Mark my word. Women love Bon Jovi and love 80s hair bands. This fits the bill to a "T". Plus the women will help you with every word that you sing and you'll walk off stage thinking you have a little bit of Bon Jovi attitude (think again, though, my friends).
Shook Me All Night Long (AC/DC) – Easy lyrics to follow and everyone who's anyone knows this damn song if you are in a bar drinking! I've sang this once or twice, even. The bar should all be singing along with you and the clapping, if you aren't a complete moron and suck at karaoke.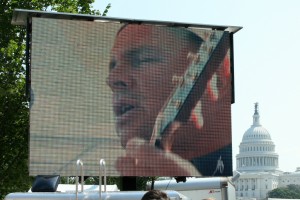 Friends in Low Places (Garth Brooks) – This is an oldie but goodie (well, most of the time). Everyone knows the lyrics and it is easy to sing, but sometimes people get sick of hearing this because it is played EVERY time karaoke is available. I still put it on my list because of the number of times it is used.