Here is my review on the Hamilton Beach 12 Cup Proctor-Silex Coffeemaker…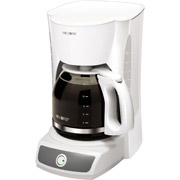 So I rolled into Wal-Mart the other morning looking for a new coffeemaker after the one I had for several years took a turn for the worse, so to say. I was in need a new one, but I wanted to go the cheap route though. I came across a Hamilton Beach 12 Cup Proctor-Silex coffeemaker that was tagged for around $15. Well, let's just say that it was $15 for a reason.
I took it home and my wife pretty much looked at me and said "what the %$#$ are you doing with this thing?" Yeah, the box it came in even looked cheap and it looked like someone was in dire need of coffee and ripped the box open hoping there was magically a way to produce some right there in the damn store.
The next morning I put it to the test and low and behold, it didn't work as expected. I took it back and exchanged it (yeah why the hell would I exchange it after the experience I was already having up to this point). The next morning I plug the bad boy to see what it can do. Well the good news is that it turned on when I plugged it in. The bad news is, well, pretty much everything else. It took forever and it continued to leak after I took the pot away from it. I think the autopause didn't work and who knows what else is wrong with it. I got what I paid for, bottom line.
And I was back at Wal-Mart picking out another one shortly after…
RD (ReviewDaddy!)