Spring is in the air! This is a great time of year to focus on your home; both repairs and cleaning. It's While kids get a break from school, it's not just a break for playing video games or watching TV. Helping out around the house and contributing at any age builds knowledge, pride, self-esteem and responsible habits. It can also be fun! This is the time of year to teach kids how to change batteries in the smoke detectors, change the dirty, winter furnace filter, etc. Here are five cleaning projects that you can delegate to the younger ones to do alone. Also, for stubborn stains or pest issues, here's a great list of eco-friendly cleaning tips and tricks.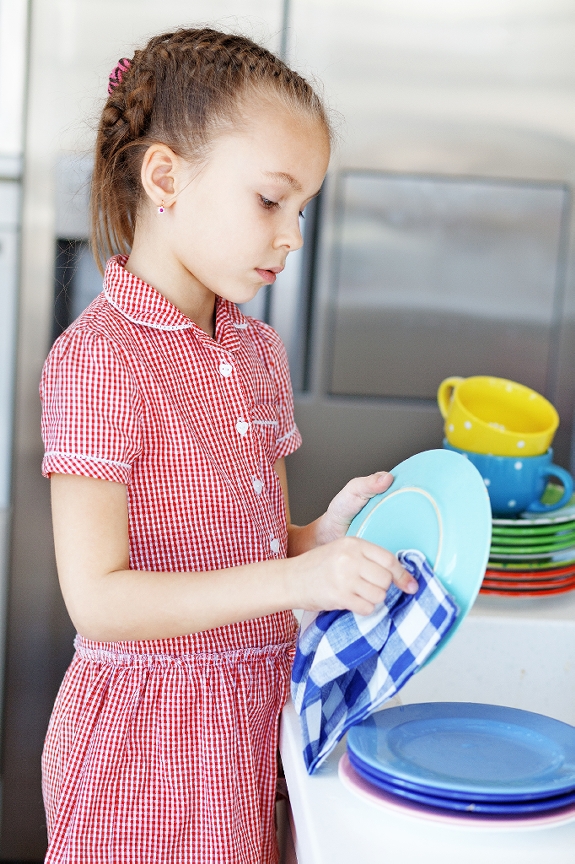 Windex and Paper Towels.
Kids love to "spray" the Windex and paper towels are easy to use. Let them clean the windows, glass block, shower doors, mirrors in the bathroom or glass tables. This is also a great time to teach them how to use glass cleaner and what "not" to spray it on like TVs, electronics, electricity, wood, etc. Some of those items can be cleaned using an air blaster can. Very fun for kids!
Toy Purging
Kids are always collecting new items and they grow so fast, they often don't realize all the items in their rooms or play areas that aren't being used. This is a great time of year to separate the toys they use and the ones they don't. Have them make a pile of toys or books that they aren't playing with. This will clear up toy boxes and shelves. This is also a great time to teach them about our modern world. They can sell these items on Craigslist with you, eBay or they can donate them to charity for a tax write-off. It may seem adult-like to discuss re-selling or taxes, but they really can't be taught soon enough. This could also lead them to treat their items better so in the future, someone else can use them, or they will still be valuable. If selling, split the profit between savings and new toys.
Shoe Cleaning/Organizing
Winter has likely left its dirty mark on many things. This is a great time to gather up all the shoes and boots and give them a good cleaning. The salt, dirt or mud has built up and it's a fun, easy project for kids. A little elbow grease and old rags will do the trick. Mild soap and water and voila, clean shoes which prolongs their wear-life and keeps mud rooms/closets cleaner. This is also a good time to gather up shoes or boots that no longer fit and maybe add them to the purged toy pile for donating or handing down.
Chairs and Table Legs
Sounds weird, but these things often don't get the cleaning attention they need frequently enough. Kitchen or dining room chairs and tables can collect built up "crud", germs and dirt over a year. Kids are the perfect size for this project. They can get down and scrub the table and chair leg bottoms as well as the "handling" parts of the chairs. Make it a game or competition, whoever has the dirtiest rag wins. They will be surprised when they see what comes off on that cloth!
Ceiling Fan Blades and Lamp Shades
Another job that gets overlooked. This is a good job for older kids. Cleaning the ceiling fan blades and glass or fabric shades on light fixtures/lamps can help the air in the home stay cleaner. It keeps dust down and helps with those pesky spring/summer allergies. Also, cleaning light bulbs and glass shades keeps rooms brighter.
Cecilia Sherrard is a Real Estate agent in Cleveland, Ohio. For more home tips including repairs, selling advice and other household projects, visit her Ohio RE/MAX Real Estate website.