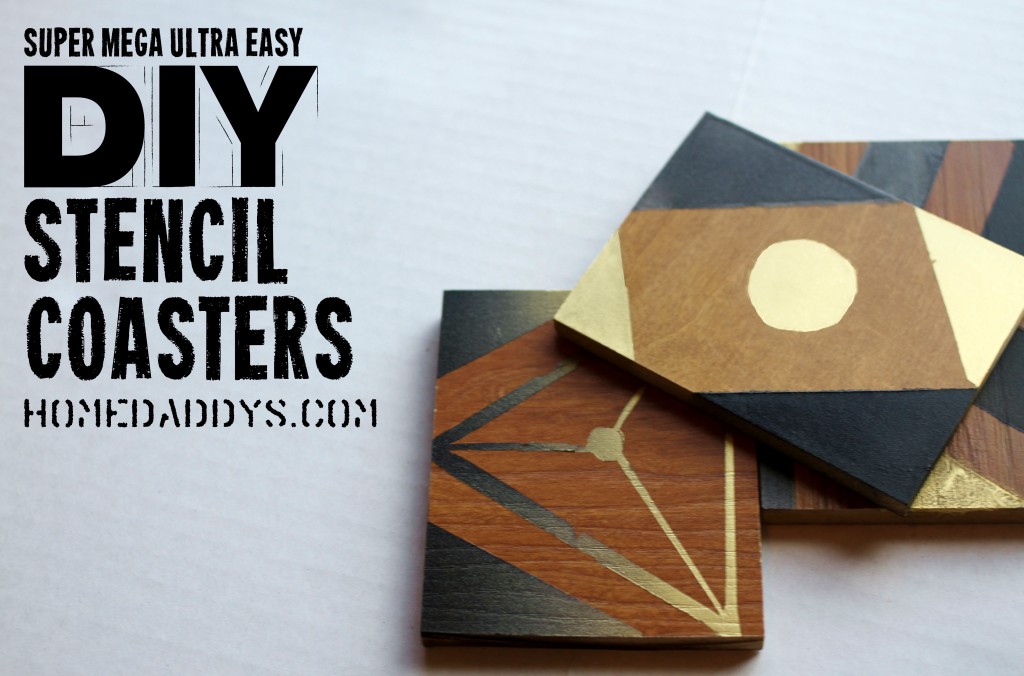 So we needed coasters for the house. We probably should have purchased some. In fact, some of you might say that purchasing coasters is really the only intelligent choice here. But I had some leftover flooring samples from the hardware store, some cans of metallic spray paint and a few hours to kill this afternoon this afternoon so I figured to heck with it, I'm gonna make my own.
That's right. I stenciled my own coasters. Deal with it.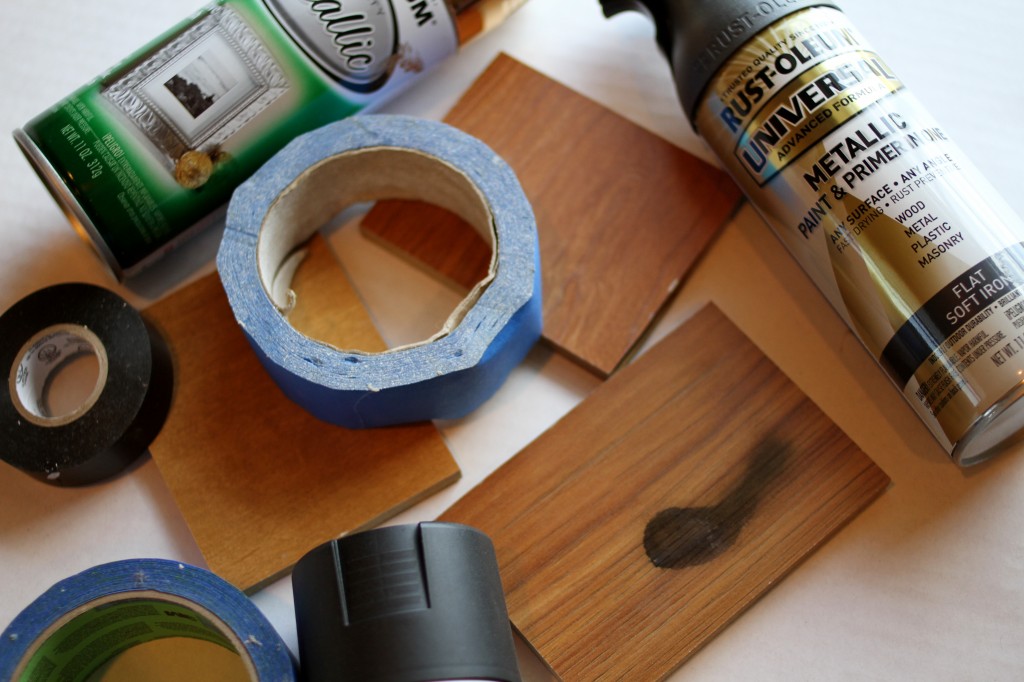 I wasn't really expecting much from this project. Even though a million women have done it successfully on Pinterest, my painter's tape skills aren't what you would call "competent." On top of that, I'm much more likely to cut myself with an X-Acto knife than I am to cut out the stencil I'm trying to make. I was pleasantly surprised to find that the finished products not only looked acceptable, they actually looked pretty darn cool.
And you guys, seriously, these are so easy to make.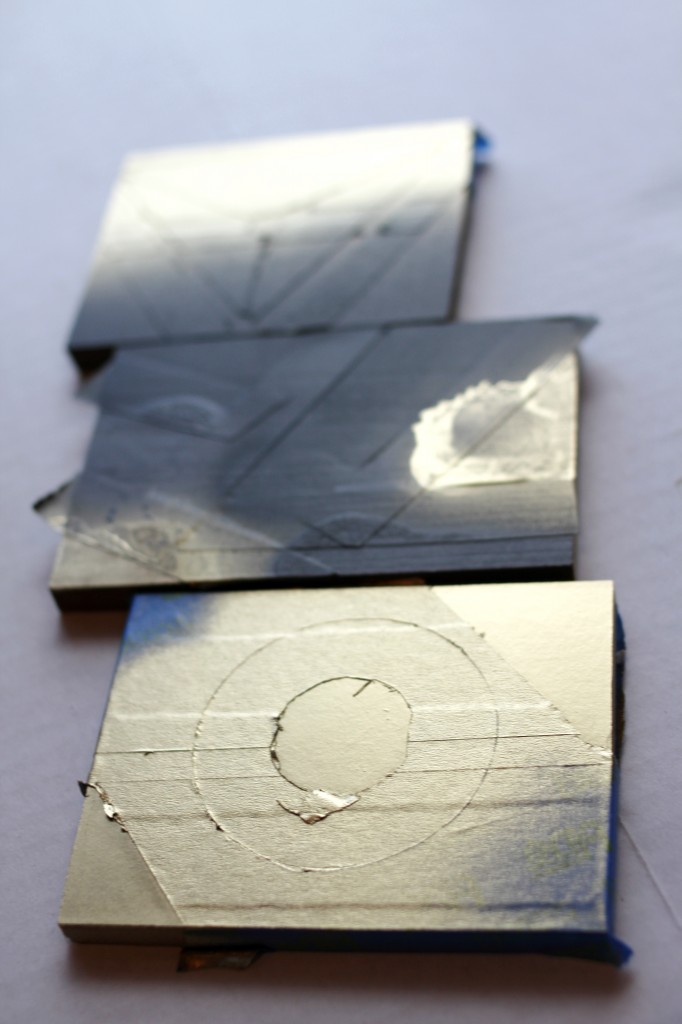 Start by grabbing a few tiles or pieces of cork board or free floor samples from your local hardware store. Then, cover those samples in painter's tape or electrical tape and cut shapes out of that tape using a craft knife. Then spray paint them and wait half an hour before you peel the tape off.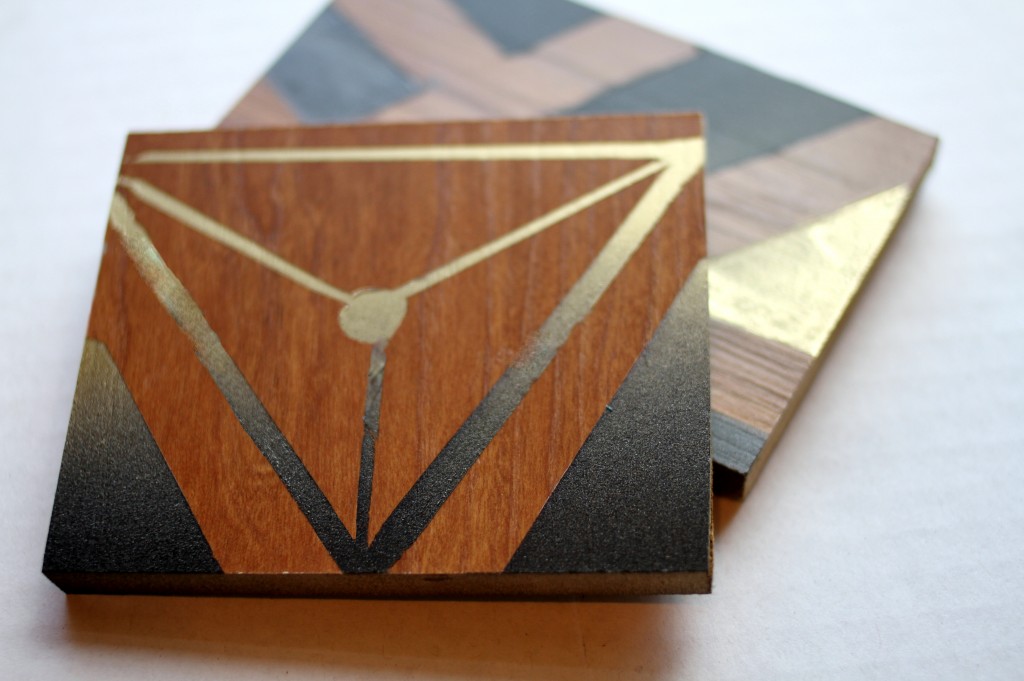 I tried a few different techniques here. For the first coaster I tried to layer the gold paint first followed by black and silver. For the second I tried to block out colors on a single layer and for the third I just kind of gave up and went with an ombre-style fade job, also known as "spraying everything everywhere."
Ironically, I think the cop-out fade design ended up looking the coolest. If I ever make these again I'm definitely going to go that route. You might also notice that some of the coasters have some tape bleed. I think that's my fault for using old painter's tape. This should be easy enough to avoid when you make yours. Just use new tape and press it flat with the edge of a credit card before you spray paint.
At the end of the day, are these coasters the manliest thing I've ever made? Not by a long shot. But they're a neat little quickie project to do for your spouse or significant other. They also make a fun project for young children. I flew solo on this one because my little dude was too busy saving our backyard from the tyranny of squirrels but that's another story.
Stop back soon for even more cool tutorials and DIY tricks. And please bear with me as my wife and I continue plowing through our bathroom renovation. My posts may be sporadic for another couple of months but hopefully the projects I've got lined up for you guys will be cool enough to compensate.
Take care,
Matthew