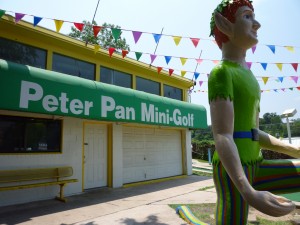 Top 10 Miniature Golf Courses I've Played (and I'm a mini-golf addict)
Professor Hackers Lost Treasure (Outer Banks) – Play this course at night if possible – I love it! It gets a little packed, but it is packed for a reason. There is even a ride here! (www.losttreasuregolf.com)
Fun Fore All (Pittsburgh) – This has two 18-hole courses and I'm biased because this is so close to home. A big highlight is having go-karts and rides for the little one as well. (www.funforeall.net)
Galaxy Golf (Outer Banks) – Course isn't in the best shape, but the price is right. We went there for years with my parents.
Mount Atlanticus Mini Golf (Myrtle Beach) – Huge complex and it is easy to get to. I had 3 hole in ones there in the same round, not that I'm bragging or anything! (www.mountatlanticus.com)
Jungle Lagoon (Myrtle Beach) – Two courses, but I prefer the Jungle Course over the Lagoon Course. It isn't about glitz and glamour here, but still worth the price. (www.junglelagoon.com)
Pirates Cove (Lake Buena Vista) – I just played this for the first time this past year and it was a nice course. It is great because it is just on the outskirts of the Walt Disney World Resort so it is somewhat of a hidden gem. (www.piratescove.net/lake-buena-vista)
Disney's Winter Summerland Miniature Golf Course (Disney World) – This was a fun course for the mere fact that it is obviously all Disney-themed and it goes hand-in-hand with the rest of the experience at Disney World (www.disneyworld.disney.go.com/recreation/miniature-golf)
Harbor View Mini Golf (Erie, Pa.) – This is an oldie but goodie. I've gone to this one several times when making the trek up to Erie. They even have a pretty cool idea on every hole – check it out! (www.harborviewminiaturegolf.com)
Sandusky Goofy Golf (Sandusky, Ohio) – I love this course and play it every time I have ever been to Cedar Point. The price is more than right and it has a bunch of things to do there, not just mini golf. (www.sanduskygoofygolf.com)
Peter Pan Mini Golf (Austin, Texas) – I've only played this one time and it is VERY old, but I visited a buddy of mine and played this course half-kicked in the you know what! Great times, therefore it made on the list! (www.peterpanminigolf.com)
Let me know if you've ever played one of these or if you have any thoughts on your favorites!