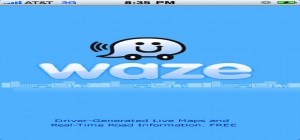 Here is my review of the Waze app for the iPhone, one that I think is very worth downloading.
Waze is a free app and truthfully, it is a perfect way to "beat the system", so to say. For those of you who don't know what it is, it is a pretty much a way of cheating on the cops, but doing it legally (at least I think so).
It is an interactive way to track traffic, speed limits, accidents, and oh, where the police are on the roads. When you see something happening on the road, you pick up the iPhone, hit the little button that gives you about 10 options on what you see, and you click it. Pretty simple process.
And it helps a ton. I was using it on the Pa. Turnpike the other day and someone "Wazed" that a cop was hidden on the side of the road. Wouldn't you know it? I slowed my ass down and there he was. Saved me about $200 in fines! So you tell me whether this app is worth it!
Download it. Use it. The more people on it, the better. Open it every time when you leave the house and it is well worth it. Help me help you. You know the drill now. Thumbs up for this guy!
RD (ReviewDaddy!)