Top Amusement Parks I've Been To:
Cedar Point (www.cedarpoint.com) – This one is a no-brainer. I've been going there (Sandusky, Ohio) since I was a little kid and every year it seems to get bigger and better. I remember when the Magnum XL-200 was the tallest and fastest roller coaster out there. Heck, now it is like the third or fourth in line there. My favorite there is still the Millennium Force, which is over 300-feet and goes over 90 MPH. Try it at night, go ahead, I dare you. The first hill in the dark still scares the crap out of me.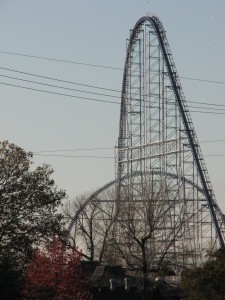 Kennywood (www.kennywood.com) – This is an oldie but goodie in Pittsburgh. They still have the old-time feeling but seem to come up with new rides every couple of years. The backbone of this park is the Jack Rabbit and Thunderbolt, but I'm a huge fan of Phantom's Revenge. Throw in some Potato Patch fries for lunch or dinner, get soaked on the Raging Rapids and cap off the day with a trip through Noah's Ark.
Busch Gardens (www.buschgardens.com) – I have been to this amusement park twice, but not for about 10-15 years. I remember that it was in an awesome area around Williamsburg, Va., and it was so clean. The people were friendly and helpful, and the lines weren't bad at all. My favorite was the Loch Ness Monster, which loops you upside down twice and is one of the fastest (if not THE fastest) in the park. Make sure to try the jumbo baked potatoes at Grogan's Grill in the Ireland section of Busch Gardens.
Disney World (www.disneyworld.com) – This one still is an amusement park, but it is more of a theme park to me. When I went with my daughter this past year, it was a little different feel than when I used to go. We went to all of the parks (except Epcot), but we hardly rode any rides. It has a ton of good rides at all of the parks, but this past trip I didn't get to experience them like I wanted to. You can't go wrong with Space Mountain, whether you are a kid or an adult. Another one that jumps out at me is Tower of Terror – pretty fun ride at Hollywood Studios. Disney's FASTPASS is a huge hit and a great addition, which reduces time spent in lines.
HersheyPark (www.hersheypark.com) – I have been here a half-dozen times in my life, and who could go wrong being a damn amusement park where you can take a tour of the best chocolate ever! My favorite here is the Fahrenheit roller coaster. It freaks you out pretty good, but well worth it! If you go to HersheyPark, you have to make time for the Wildcat. It is old and isn't the highest or fastest roller coaster you'll ever ride, but it is a classic. Do it.
And Top Amusement Parks I've Heard I Should Go To: