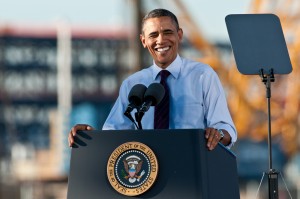 I completely forgot that President Obama was speaking last night but I'm glad I remembered just in time. I'm not going to sit and here and preach about whether I'm a Democrat or Republican, but I will say that I didn't vote straight party last election and went against what I'm actually registered as.
That being said, I thought his speech last night was pretty damn good. Now granted, both the Democratic and Republican Conventions are all just a pep rally anymore and there is no suspense as to what will be said or who will be VP and such. However, I really enjoyed last night's speech overall.
He did a good job of being serious, upfront, honest and to the point. He knocked the Republicans a little bit, but didn't over do it. He was able to focus a lot more on a plan, rather than what Mitt Romney kept talking about how everything that was wrong in the country.
I loved when he began to talk about how the country is moving forward by adding jobs here in the US because that one hit home personally. I was effected a few years back and I can honestly say that I have seen more and more jobs not only come to the Western Pa. region, but everywhere. It isn't the best situation, but in my opinion it is on the right track. Who I am though right?
If it were up to me, I'd bring Clinton back.
HD (HomeDaddy!)