The following are the top 5 golf holes I've played (and played pretty well, might I add!)…
(in no particular order…)
No. 17 at TPC Sawgrass (Jacksonville, Fla.) – I was down in Jacksonville for business about 10 years ago and got the chance to play Sawgrass since we were staying right at the TPC Sawgrass Marriott Resort and Spa. Don't get me wrong, it is intimidating, but it is only a 9-iron from the tips. I stuck it and then 3-putted the damn thing for a bogey.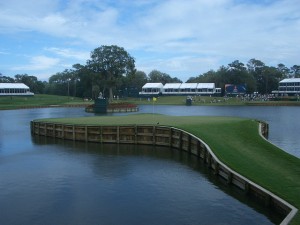 No. 17 at Oakmont Country Club (Pittsburgh, Pa.) – I have a friend of a friend (yeah I'm that guy) who got me on Oakmont a couple years back and it was a freaking great experience. No. 17 is the famous hole that has "big mouth" on it. It isn't a long hole but with "big mouth" staring at you on your approach shot it is a tad scary. I ended up hitting to the left side of the green and got in another bunker. Ended up with a double-bogey. Great hole though.
No. 16 at Olde Stonewall Golf Club (Ellwood City, Pa.) – This course is a hidden gem but it is not the easiest place to get to. Anyway, you have to play the tips if you playing this hole. It sits about 100 feet over the fairway and it is about 230 yards to carry the ravine to the fairway. After you hit the fairway, you have to hit over another ravine onto the green, which is surrounded by bunkers. I hit the fairway but came up short on the green. Chipped up, two-putted for a bogey.
No. 3 at Oakmont Country Club (Pittsburgh, Pa.) – Again, this was the same round and it is the hole with the church pew bunkers on the left hand side. It is pretty daunting looking at them off the tee, but you only go in them if you really hook your drive. I hit the fairway, hit the green and drained a 40-footer for a birdie actually!
No. 4 at Southpointe Golf Glub (Canonsburg, Pa.) – I had a chance to play Southpointe last year in an outing and I thought this whole was pretty cool. It isn't a long hole but you tee off about 4 stories above the actual green. The second shot down the hill is literally straight downhill. I hit the fairway, hit the green and two-putted for a par.