The Holidays are almost always hectic. But winter is also a great time to work on those 5 home improvement projects that add value to your home, lower your heating costs or enhance your frame of mind during the dreary months ahead.
As a top Louisville Realtor, I like to recommend which projects are the best "bang for your buck" by adding value to your home where it matters most.
Here are five great home improvement projects that you can handle during the cold months, without hiring a contractor. If you're not the handiest tool in the shed, winter is a great time to hire a contractor, who typically have more availability during this season. You can negotiate a better rate, too!
So, let's get started.
1. Update those lighting fixtures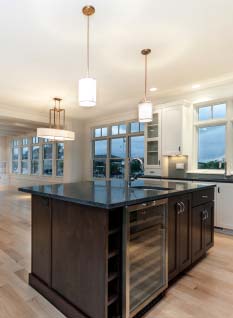 One of these 5 home improvement projects that can really make your Holidays sparkle is installing new lighting fixtures.
What is the most popular exclamation on any home show? "This space is so light and airy!"
Humans love light. The more light, the better. You can't add more windows to your home without major costs, but you can update the lighting fixtures.
Does your room have an old ceiling fan? Replace it with a new one that also has a built-in light.
Tired of the brass chandelier above the kitchen table? Go shopping, a select a beautiful, contemporary fixture that matches your current tastes.
Don't forget, installing lights under your kitchen cabinets is not too difficult and adds instant style. Most home buyers also find it appealing.
2. Organize those closets and storage areas
When New Year's Day arrives, many of us are thinking of resolutions for the upcoming year. A popular one is being better organized and more efficient with our time.
Winter is a wonderful time to go through your closets and donate items to charity, while organizing everything you plan to keep. Installing new shelves, drawers or clothing racks is a fairly straight-forward proposition.
Pick one room to start, declutter, then organize what's left by what you use most often. Come the new year, you'll have a sense of pride that you're already ahead of the game.
3. Liven up the tired spaces with paint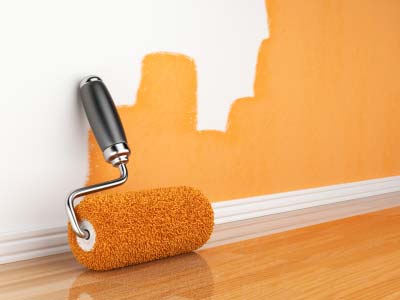 The easiest way to update the feel of any room is with new, fresh paint.
Sick and tired of the same ol' bedroom walls? Nothing will change a room's appearance faster, or at a lower cost, than new paint.
Don't let the winter doldrums get you down. Spice things up with some bold, new colors to brighten your mood.
If it's frigid outside and you can't open the windows, you may opt for a low-VOC paint that has less fumes.
4. Add insulation
Not the sexiest option in the list but winter is a great time to add insulation and lower your utility costs. It also makes your home more comfortable during the cold months ahead.
Adding insulation doesn't need to be difficult either. There are multiple options, depending on the location in your Louisville home that needs attention.
Also, wrapping your water heater with insulation helps it run more efficiently and last longer.
5. Spruce up those floors
You won't believe the number of laminate flooring options these days. So many styles to choose from and the products are better made than ever.
Putting down new laminate floors is a great way to improve a basement, laundry room or even certain baths. Some cuts can be tricky, but there are large number of video guides to help you install laminate floors.
Carpet tiles are another great home improvement project that homeowners can usually tackle themselves.
Wrapping up!
Before you let the Holiday madness get you down, add a couple of these home improvement projects to your calendar, knock them out and feel good about the investment you've made to your Louisville home.
If you're considering a major project, like finishing your basement, you may want to check out Top 5 Factors When Finishing the Basement of Your Louisville Home.
Tre Pryor is an Internet-veteran turned tech-savvy Realtor. One of the top Louisville agents, you can find his work at InsiderLouisville.com, Louisville Homes Blog or follow him on Google+ or Twitter.