It's offffiicccciiiaalllll (in my best Meadows Race Track voice)!!!!!! We sold the house! We didn't get as much as we wanted to for the house, but then again it is off our hands. Pretty exciting night for us last night when we finally got the news. The best part was telling the little princess that she is going to have a new house soon (fingers crossed!). There is still a lot of crap that has to be done (inspections, repairs, blah blah blah), but it is great that now we can officially look for a new house and not have the possible worry of two mortgages – ugh.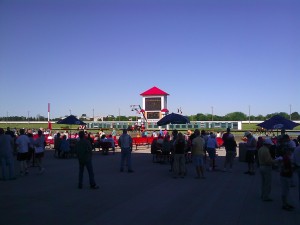 Anyway, that means we are on the market for a new house which is very exciting. Now I just need to keep the wifey in check in terms of how much she thinks we can afford. Then again, who the hell am I to say considering she is the one paying the bills!
This Friday is orientation for my daughter into her new preschool class that we enrolled her in last week. Pretty exciting and still anxious to see how she is going to fit in. She knows a few of the kids from her dance class that she took this past year, but no matter what I will be uneasy until she fully fits in. With her personality, I don't think it will be a problem at all. She is so outgoing and personable, almost to a fault, that seeing new faces and such will hopefully be a smooth transition.
I think it is important for her to get acclimated, even if on a part-time basis like we are doing, to kids at an early age instead of keeping her home all day with me, everyday. I'm not judging people who raise their kids that way, but in my personal experience I think it is better to have them out and about more. Maybe it makes them more confident and more open to change, maybe not. I don't know for sure, but when it was brought up, both my wife and I said it was a no-brainer to make sure she has a ton of interaction with kids as early as possible. What the hell do I know though?
I've been craving some Dairy Queen again so tonight might be one of those nights where I treat my daughter (really I'm treating myself, but who's counting?) to a freaking LARGE Blizzard. I can't wait!!!
Have a good Tuesday!
HD (homedaddy)