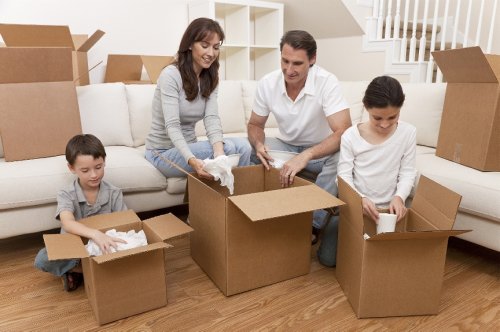 Few endeavors are as likely to send you to the medicine cabinet for a handful of Tylenol as moving into a new home. There's the tedious planning, organizing, and packing. There's the back-breaking labor that may require a few extra pairs of hands. And then there are those logistical necessities like dollies, carts, and of course, a moving truck. It's no surprise that many of us decide to hire professional assistance when attempting to undertake a move.
Unfortunately, doing so isn't as easy as cracking open the Yellow Pages (or, for most of us now, browsing through the Google results page) and calling up the first moving company on the list. If you haven't heard of or experienced a moving company horror story, calling up a random mover is a quick way to change that. Finding the right mover requires research, planning, and asking the right questions. Here's what you should consider before starting your search:
Start early
The early bird gets the worm; likewise, the early customer gets the best company. You need to go into your search keeping in mind that finding and booking the best movers is a competitive process. Realize that the vast majority of people move on the weekends, and that moving is very seasonal (peaking around May). Moving often takes all day, and some companies may only have a few trucks (or just one), meaning they service only a few customers a day. This means you're most likely looking for a moving company on the same select days that everyone else is—and guess what, those people will be trying to book the companies that are known to be the most reliable, too. The only way to ensure you nab a reputable company is to book them as far in advance as possible, which means starting your search as soon as possible—otherwise, you might be stuck with the bottom of the barrel.
Think outside the truck
There are a variety of types of moving companies out there, so before you book the first service available, consider how different types might work for you. If you've got buddies that are willing to lend a hand (and possibly a lower back, if they don't know how to lift) free of charge (or in exchange for pizza and beer) then you probably don't need a full-service mover. In that case, go with what's typically called an LTL or FTL transport, a service that simply rents out the truck and a driver. Going this route will definitely save you a pretty penny. If, on the other hand, you're stuck with a labor shortage, go with what's known as a 'white-glove' moving company. This is the kind of full-service solution that sends professional movers into your home to help you pack your stuff into boxes, load those boxes onto the truck, transport it all to your new home, unload the boxes into your new home, and then voila: all you have to do is figure out where things go.
Finally, a relatively new service known as 'portable storage' (the most popular brand being PODs) offers a third option. Instead of showing up at your home with a truck, the company will drop off a storage container outside your home. After you fill the container, the company will then either take your container to a warehouse if you need to store it for a time, or will deliver it to your home. By utilizing their distribution network of trucks and warehouses, these companies are able to offer transportation at a lower cost. However, that lower cost can come at a price: portable storage containers are notoriously slow to deliver, as they'll often sit in processing at a warehouse until there are enough other containers to fill up a truck. If you're going to need your belongings immediately after moving, portable storage is not for you.
Read reviews
In this day and age, your only source of information about a company shouldn't be their own marketing materials. Find third-party sites where actual former customers have left reviews on the companies you're considering. One important thing to keep in mind when reading reviews is that you're often only confronted with extremes: usually, people only bother getting online to write a review when they have either an extremely poor or extremely good experience, so one either way shouldn't be what you make your decision on. Instead, it's best to read what reviewers said, then keep those things in mind when you go to talk with the company. Google Places and Yelp are great sites for customer reviews.
Check their licensing and insurance
One of the greatest dangers with selecting a moving company is finding one that is illegal. Companies should be registered and properly insured with cargo insurance. Ask to see proof of the company's license and insurance, and if something seems fishy, check up on them by visiting the appropriate government resources.
Get the details down in writing
You should know every detail before the mover ever shows up, from schedules to truck sizes to how many of them will be showing up at your house. What you are responsible for and what the company is responsible for should be clearly delineated. Ask as many questions as you can, and get things down in writing.
Brian Shreckengast is a writer at SelfStorageDeals.com, a leading price-focused search engine for finding cheap storage units. Learn more about moving and storing at the SSD storage blog.